Women in Milling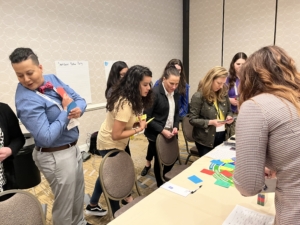 The IAOM Women in Milling Group meets on a monthly basis via Zoom. This group held its first in-person event, a leadership style workshop facilitated by Emily Bowers, BEMA, in May 2022 at the 126th Annual IAOM Conference & Expo in Richmond, Virginia. The attendees had completed online assessments for the Insights Discovery program in advance of the workshop. The time in Richmond was spent reviewing individual profiles and learning how different leadership styles interacted with one another.
Below are brief descriptions of the monthly roundtable discussion topics. Those marked with an arrow also include links to the recorded presentations.
July 2022
July 2022 | Recruiting Millers
Halsey Elliott
Mill and Elevator Team Lead, General Mills
Halsey shares her reflections from participating in the FFA Opportunity Fair in June 2022 in Manhattan, Kansas, and discusses the challenges and opportunities available for promoting careers in milling. She also shares some of her journey through the Kansas State University milling science and management program and speaks about how she has developed her management style and dealt with the challenges of being a woman in the milling industry. Halsey graduated from Kansas State University in 2018 and worked at several locations with ADM before her recent move to the General Mills facility in Kansas City, Missouri.
June 2022
June 2022 | Women in Milling Through the Years
Kelsey Meyer
Food Safety Manager, Snavely's Mill
Kelsey presents her research about depictions of women in milling over the previous centuries. She shares details about projects conducted in the United Kingdom and reflects on the different opportunities that exist to reach out to young women who are interested in careers in milling. Kelsey attended the food science program at Pennsylvania State University and is completing her master's of food safety program at Michigan State. She is the recent recipient of the Show Me Food Safety Scholarship, is interested in the history of the milling industry and has been working at the 6th generation Snavely's Mill for 4 years.
April 2022
April 2022 | InnovateHer KC
Lauren Conaway
Founder and CEO, InnovateHer KC
InnovateHER KC is a community that connects, empowers, and supports women leaders and unites them to do incredible things. With members across many industries, she has a wealth of experience shaping how women pursue collective action and harness the power of their groups to enact positive change at the personal, commercial, and organizational level. InnovateHER KC is a response to the need for a place for women from all walks of life and professions to feel included and heard and exemplifies how to cultivate a sphere of influence and advocate for the needs of women in business. Lauren's presentation shares part of her organizations' journey and provides context for how women-centered organizations can work toward collective action and find ways to build bonds between members.
March 2022
March 2022 | Insights Discovery Tool
Emily Bowers
Vice President of Education & Operations, BEMA
Emily's presentation offers a preview of the Women in Milling Workshop, scheduled in conjunction with the IAOM Annual Conference & Expo in Richmond, Virginia. This workshop, held on May 3, will utilize the Insights Discovery method which includes a pre-workshop assessment. She will also share highlights from her leadership consulting work and cover topics which will get developed further at the in-person meeting.
February 2022
February 2022 | Lessons from the HR Office
Jennifer Harnish
Chief Human Resources Officer, PHM Brands
A graduate of Marquette University, Jennifer has over 20 years of experience in food manufacturing and logistics. Her talk offers up advice about succeeding in a predominantly male industry along with strategies for managing work and family balance.
January 2022
January 2022 | Mentorship Programs
Melanie Dolechek
Executive Director, Society for Scholarly Publishing
Melanie has extensive experience working with professional publishers and is a graduate of Kansas State University. Her presentation focuses on how her team has evaluated the successes of their mentoring program, the lessons they have learned in developing it, and what is on the horizon for their mentors and mentees.
December 2021
December 2021 | A Story of The Women's Bakery, Inc.
Markey Culver
CEO and Founder, The Women's Bakery, Inc.
This social enterprise, which began in 2014, grew out of Markey's work with the Peace Corp in Rwanda and serves as a hub for vocational training and business education. The Women's Bakery equips women with the skills necessary to launch and profitably manage bakeries in their communities. Some of the topics she will discuss include the intersection of nutrition and economic development, how global grain supply affects operations in developing countries, and the ways that social enterprise can impact women's autonomy and improve community nutrition.
November 2021
November 2021 | Keys for Success in Forming a Mentorship Relationship
Stephanie Tanksley
Global Director of Quality and Food Safety – Carbohydrate Solutions, ADM
Stephanie shares highlights of her experience about how to succeed in engaging in a mentoring relationship with your colleagues. In her 20 years in manufacturing, Stephanie has accumulated a great deal of wisdom not just about why we seek out mentors, but the best ways to keep those relationships meaningful, mutually enriching, and professional.
October 2021
October 2021 | Small Group Discussions
Fran Churchill
Professor of Practice, KSU
This roundtable features small group discussions facilitated by members of the group. The small group discussions center around these topics:
"Your Professional Journey" – for those who wish to discuss how they've managed career choices
What are the biggest challenges you face in the Milling Industry? For example: shift scheduling, relocations, built environment
Managing work and life with regard to parenting, pregnancy, and motherhood
Leadership and generational differences
September 2021
September 2021 |Affinity Groups
Angie Goldberg
Chief Growth Officer, Ardent Mills
Angie shares information about the affinity groups that Ardent Mills has helped foster within their organization. She shares details about how these groups operate, how they've formulated their goals, and what they see for the future. She discusses matters related to organizational change, highlights the strategies which have proven effective, and shares how these efforts will affect the industry.
August 2021
August 2021 | Sexual Harassment in the Workplace
Jessica Henault
Sexual and Relationship Violence Prevention Specialist, Center for Advocacy, Response, and Education (CARE) at Kansas State University
Jessica discusses various elements that contribute to an unsafe workplace environment and guides a discussion on ways to support victims/survivors. Roundtable members are encouraged to share moments in their careers when they have faced difficult circumstances.
July 2021
July 2021 | Imposter Syndrome
Chelle Hartzer
CEO, 360 Pest & Food Safety Consulting
Chelle has many years of experience in pest management protocols, and operates 360 Pest & Food Safety Consulting, which serves a variety of industries including food processing, hospitality and laboratory environments. She also provides technical expertise to other pest control companies. Her talk focuses on some of the challenges she's had growing her business in a male-dominated industry.
June 2021
June 2021 | Embracing your Authentic Leadership Style
Lexie Pfannenstiel
Senior Manager for North American Manufacturing, General Mills
Lexie explores the topics of being a working parent, being liked vs. being respected, and techniques for managing in a majority-male workplace.
April 2021
April 2021 | Networking Methods in a Virtual World
Fran Churchill
Professor of Practice, Kansas State University
The Women in Milling Roundtable this month will discuss the methods we use to network in our professional lives. Sometimes, networking can feel abstract, but many of us have had 'a-ha' moments where we realized the value of networking and gained insights into how to use these techniques to improve our effectiveness in our roles, get ahead in our careers, and find professional friends and contacts. Come prepared to share with your peers how you've grown your own network or the kinds of challenges you've faced in your attempts. Learn how to get beyond phony glad-handing and make your efforts more intentional and genuine.
March 2021
March 2021 | Transitioning to a Human Economy
Lynn Tumlinson
Team Leadership Coach, Lift Team Coaching
The Women in Milling Roundtable this month will feature Team Leadership Coach Lyne Tumlinson from Lift Team Coaching. She will facilitate a discussion about how management techniques have adapted during the shift defined as the transition from the industrial economy to the knowledge economy, which is now growing into a movement towards a human economy. Lyne will discuss the general ramifications of these changes and, specifically, how they affect the way we manage, how teams operate, and what this means for corporate culture.
Monthly Virtual Roundtables
To register for the next Women in Milling Roundtable, please complete the form below. We look forward to seeing you on Zoom!