District Officers
David Byers
Director
Ardent Mills

Michael McElroy
Chairperson
Ardent Mills
Kayle Lyman
Vice Chairperson
Grain Craft
Tracy Eustace
Secretary /
Treasurer
W.D. Patterson Co.
Jeff Trillo
1st Exe. Committeeperson
ADM Milling Company
Brian Allinger
2nd Exe. Committeeperson
Ardent Mills
Caleb Ahlquist
3rd Exe. Committeeperson
Grain Craft
Rebecca Fallon
Allied Trades Chair
Bühler
Branson Landing hosts Joint District Meeting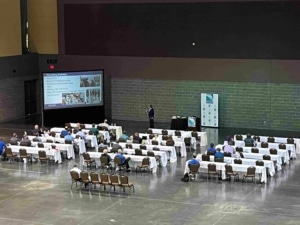 The IAOM Central, Texoma and Wheat State Districts' Joint Meeting & Expo met July 27-28 at the Hilton Branson Convention Center in Branson, MO.
More than 80 attendees enjoyed the fellowship and collaboration during the networking social events and the technical sessions. 
Friday, July 28
Opening of Technical Conference, Ian Tillinghast, Grain Craft
Welcome and Update on International IAOM Activities, Fran Churchill, Kansas State University
Wheat Crop Update, Justin Gilpin, Kansas Wheat
How to Determine your Sifter Capacity, Kathy Wiley, Great Western Manufacturing
Food Safety Topics, Rob Wong, Agri-Neo
Recruiting the Next Generation, Halsey Elliott, General Mills
Panel Discussion – Managing Different Mill Team Personalities, Fran Churchill, Moderator, Kansas State University
Milling Outside North America, Roy Loepp, Seaboard Corporation
A Baker's Perspective on Milling, Dave Kirshock, Grain Craft
Contribution of Blending on Dough Rheology, Hikmet Boyacioglu, KPM Analytics
KSU Update, Fran Churchill, Kansas State University
Metal Detection in Milling, Craig Miller, Bunting Magnetics
District Business Meetings
Future IAOM Annual Conferences & Expos