Golf Tournament
Networking on the Links
The Annual IAOM Golf Outing will tee-off at 8:30 am on Friday, May 6 at the Royal New Kent Golf Club. Lunch, awards and hole prizes will take place at the conclusion of play.
All golfers must register in advance for the tournament. Sign up before April 2 and pay $100; after April 6 it's $110. Be sure to indicate your handicap or 18-hole average on your reservation form.
Team groupings should be sent to Drew Stewart at drew.steward@adm.com. Registration fee includes green fee, cart, range balls, lunch and prizes.
Royal New Kent Golf Club
10100 Kent Field Road
Providence Forge, VA
+1 804-966-7023
Check out the course at Royal New Kent Golf Club
Schedule of Events
Friday, May 6
7:30 AM – 8:30 AM – Registration
8:30 AM – Shotgun Start
1:30 PM – 2:30 PM – Lunch
Spouse Program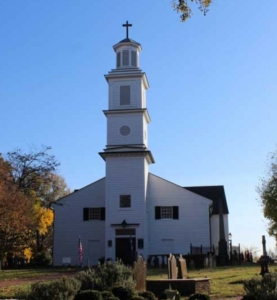 Spouse Guest Program
Explore Richmond with other Conference Guests
If someone is coming with you to the conference, be sure to sign them up for the Spouse/Guest Program in Richmond, Virginia.  While you are attending the conference sessions and enhancing your knowledge and skills in milling, your companion will be able to explore Richmond and the surrounding area in an organized group.
The two day program will consist of exciting museum visits along with fun group lunches and wine/cider tastings.  The first day will be a tour of the Edgar Allan Poe Museum followed by lunch and wine tasting in the quaint town of Ashland, Virginia.  There will also be an opportunity to browse the local shops in Ashland.
Day two will be a tour of the Historic St. John's Church famously known for the location of Patrick Henry's "Give me liberty…..or give me death!" speech, followed by lunch.
Spouse/Guest Program Schedule
Wednesday, May 4
Edgar Allan Poe museum, lunch, shopping & wine tasting in Ashland
Thursday, May 5
Historic St. John's Church tour followed by lunch
Allied Trades Event
Allied Trades Event 
The Allied Trades Event will take place at the Southern Railway Taphouse located in the Shockoe Slip area of Richmond.  The Taphouse is known for its large beer selection, delicious food and has an arcade located on the second floor.
While you are catching up with long-time friends and making new acquaintances, you will be able to sit comfortably inside and enjoy some beer and see what sports team is playing on one of their many TVs, or stroll out to their huge patio which overlooks the James River.
While the Taphouse is walkable from the Richmond Marriott Downtown, transportation will be provided between the venue and the hotel.
Annual Banquet & Awards Ceremony
IAOM Annual Banquet & Awards Ceremony
IAOM will honor and pay tribute to its award recipients at the Annual Banquet & Awards Ceremony on the final evening of the conference, May 5.
It is sure to be a memorable evening. This year's celebration will be held at the Richmond Marriott Downtown in Richmond, Virginia.
The evening will start at 6 pm, with a reception. During the reception, the IMEF Silent Auction will still be open – so those who are trying to secure the winning bid on one of the amazing items up for auction will need to attend for sure.  The live auction will follow dinner where several fantastic items will be up for grabs!
The reception will be followed by what promises to be a delicious dinner, prepared by the hotel's talented chefs. The evening will feature a program that includes the passing of the gavel, presentation of IAOM awards and anniversary celebrations.
Advance tickets are $85 and may be purchased through IAOM during registration. Tickets purchased after the early-registration deadline of April 2, will be $95.
IAOM's Annual Banquet & Awards Ceremony is always a highlight of IAOM's Annual Conference & Expo. Be sure to attend to see who will receive this year's industry awards.
IMEF Auction
Support the Next Generation of Millers through the IMEF Auction
Auction activities to support the International Milling Education Foundation (IMEF) will be held during the 125th Anniversary IAOM Conference & Expo. Past items have included iPads, hunting and fishing trips, electronics, golf range finders, smokers, sieves, tickets to college and professional sporting events, TVs, coffee brewers, getaway trips to exotic locations, handmade quilts, and much, much more!
Live Auction
The Live Auction will take place after the Annual Banquet Dinner the evening of Thursday, May 5 at the 126th Annual IAOM Conference & Expo in Richmond, Virginia. An auctioneer will be on hand to keep the bidding interesting and make sure everyone has a shot at the fabulous items on the sale block.
Silent Auction
With the Silent Auction taking place via mobile app, it's not even necessary for you to be present to participate in the Silent Auction bidding, which opens on Monday, May 2 and ends during the banquet the evening of Thursday, May 5. Our totally Silent Auction caters to an even stealthier crowd. Our extensive auction catalog is a veritable treasure trove of coveted objects, services, and experiences—with 100% of proceeds benefiting IMEF.
With every dollar you spend helping IMEF, we encourage you to let loose your competitive spirit and generous nature to top that last bid!
Your winning bid (and contribution) ensures that IMEF will be able to continue to inspire leadership and achievement within the milling community!
Proceeds from the Auctions support the learning, knowledge resources and vibrant community provided by the International Milling Education Foundation, a 501 (c)(3) U.S. tax-deductible organization.
Help raise money to support future generations of milling professionals!
To learn more about auction items or make online donations visit: www.iaom.info/imef.